Steel Floor Deck Roll Forming Machine is for producing metal floor decks panels in batch fully automatically and the Max thickness up to 2.0mm from 0.7mm,  and the hardness could be yield strength 550 MPA, SG550 or normal one. Here we take a random type of metal decking for your reference: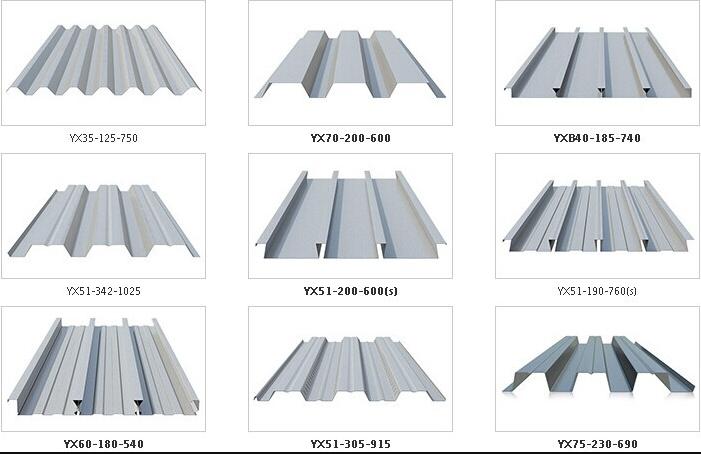 Steel Floor Deck Roll Forming Machine Zhongtuo design like this:
Advantages of Composite Floor Deck for modern construction:
First it can Speedy construction, save in weight, easy installation, Less concrete usage and it is fire resistant, so it is quite popular.As far as we know, there are several popular types for your reference:

Normal design metal floor deck is invented in 1970s, and also widely used now.
Re-entrant Metal Floor Deck

Highly strong re-entrant composite floor deck, used for long-span structures.
New design Metal Floor Decking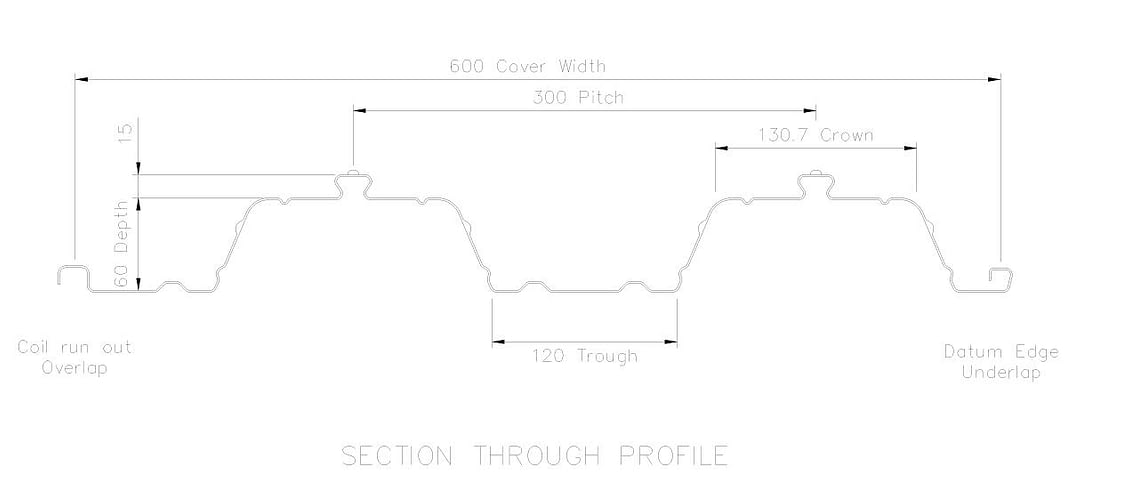 New design floor deck exceptionally resistant to compressive buckling resulting in superior span capability compared to traditional decks.
Deep Profile

Deep profile shape provides a very efficient metal deck and composite slab, with a low usage of concrete.
Zhongtuo Floor Deck Machine Components is composed by the following elements:
Uncoiler, 5 Ton Capacity, roll Forming Machine with shearing system,hydraulic station,controlled cabinet and receiving table.  
Brief Specifications of Floor Deck Roll Forming Machine
The Uncoiler is for uncoiling the coils automatically. Manual decoiler or hydraulic uncoiler as you wish, here we take the hydraulic decoiler to show you some basic parameters:
Electric uncoiling, hydraulic loosen and tension
Maximum capacity:11 Ton
D:508mmO.D:1350mm
Maximum width:1350mm,
Hydraulic Power: 5.5KW, Uncoiling motor power:5.5KW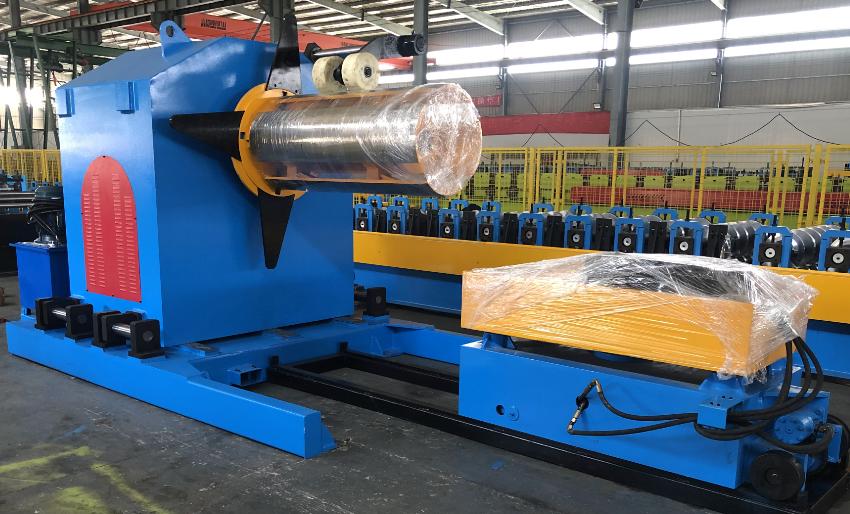 Metal Floor Decking Roll Forming Machine
Adopt H STEEL and Steel Plate Welded, side wall thickness: 30 mm, 500 mm quality H steel
Roll Forming Rollers Station: 32, with several side rolls
Diameter of Shaft: 120 mm with the embossing rollers of 140mm.
Motor Power: 15KW*3 siemens brand
Power Transition: by Gears&Chains( 2.5 inch single)
Speed Control: by Frequency Inverter
Speed of the machine: 10-15m/min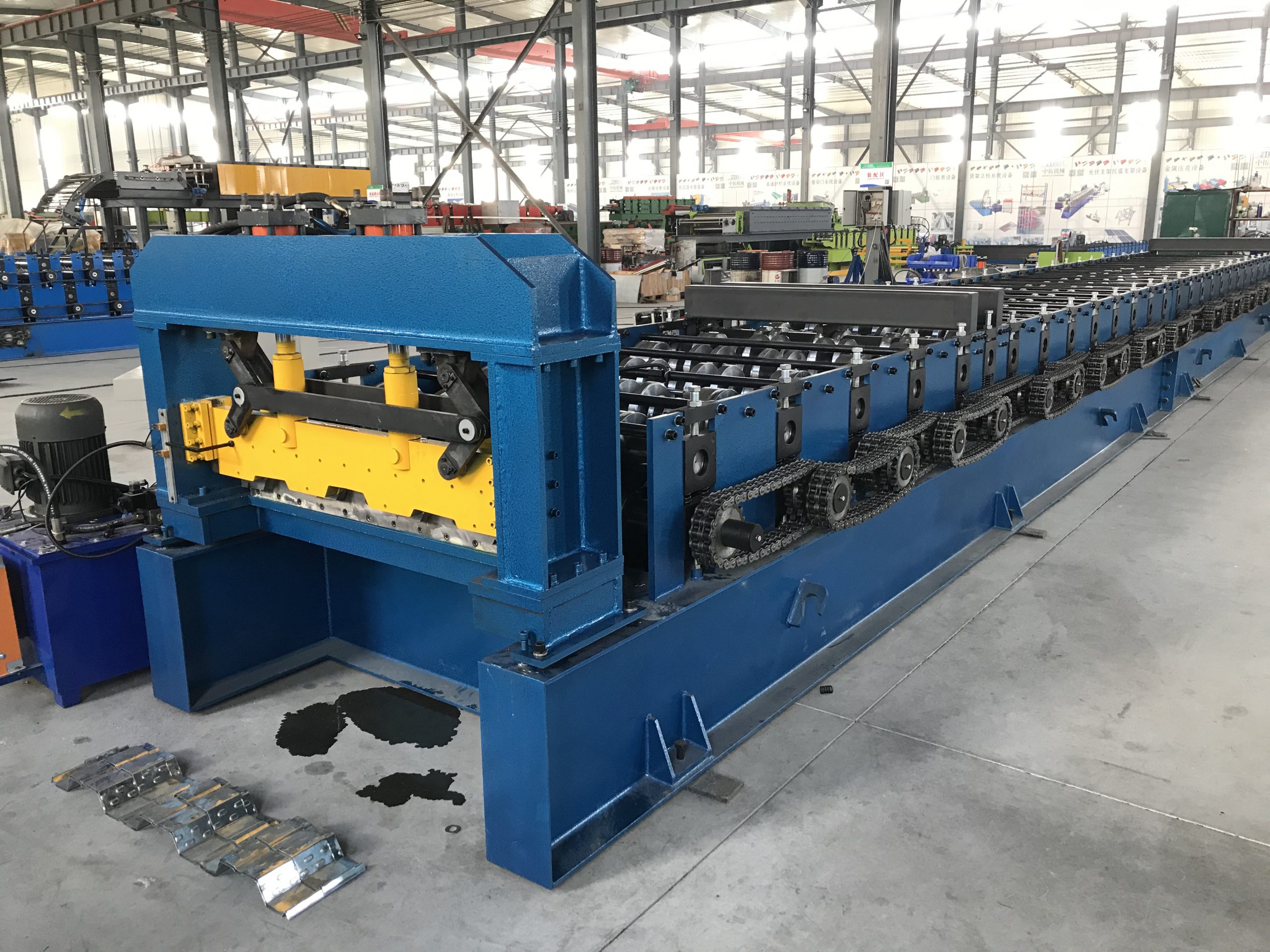 As to the metal decking shearing system, we use the material Of Cutting Mold: Cr12 Steel With Quenched Treatment HRC 60-62. Cutting Length And Quantity: Clients Can Set The Length and Quantity on the PLC Touch Screen. Hydraulic Station Power: 5.5 KW. Tolerance Of Cutting Length: +/-2mm
The worker can set all the data of length, quantity, holes position on the touch screen which will control the machine. And if you need to punch logos on the machine, we can also design for you.
What's Steel Floor Deck and where it is used for ?
A composite steel deck combines the high tensile strength of steel with the compressive strength of concrete to improve design efficiency and reduce the material necessary to cover a given area. Additionally, composite steel decks supported by composite steel joists can span greater distances between supporting elements(Such as C Purlins, Z Purlin, H Steels). And have reduced live load deflection in comparison to previous construction methods.