36" B Deck N Deck Metal floor deck roll forming machine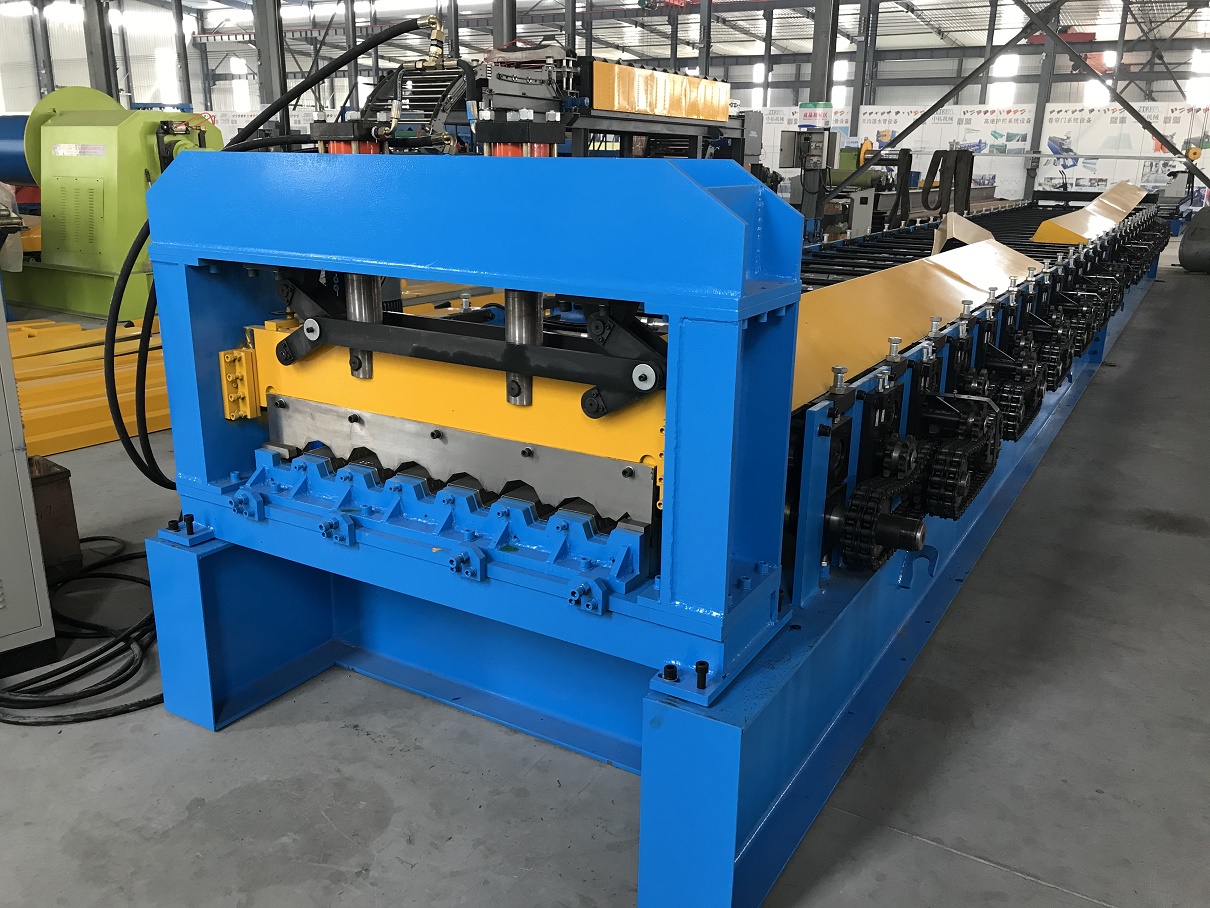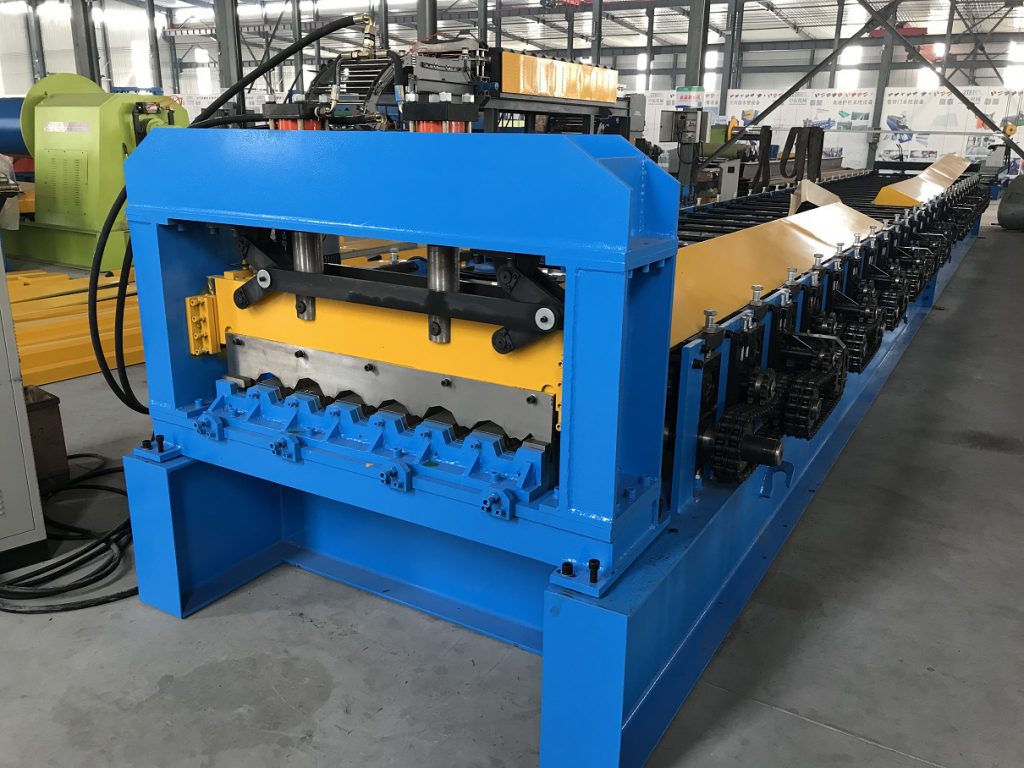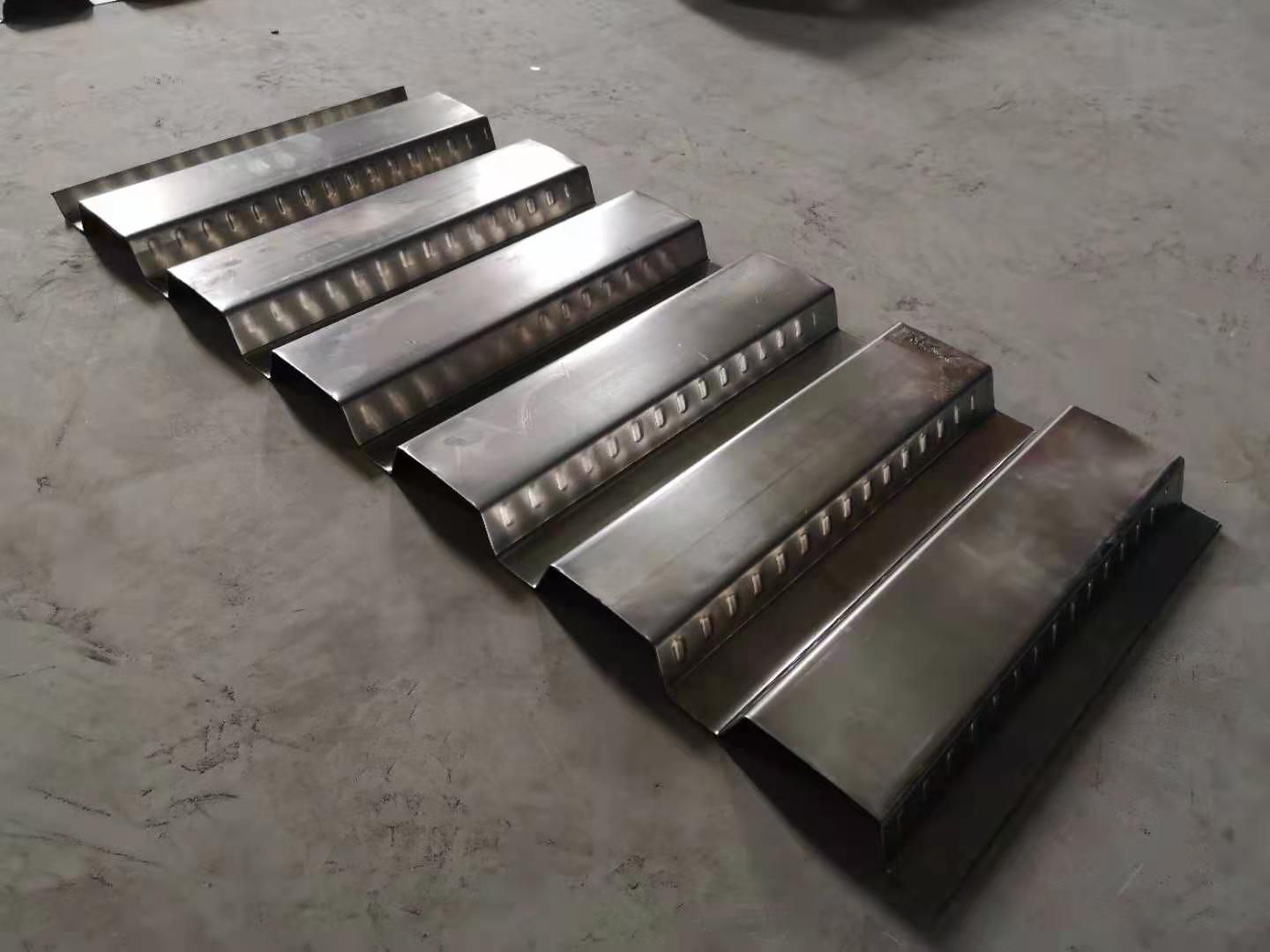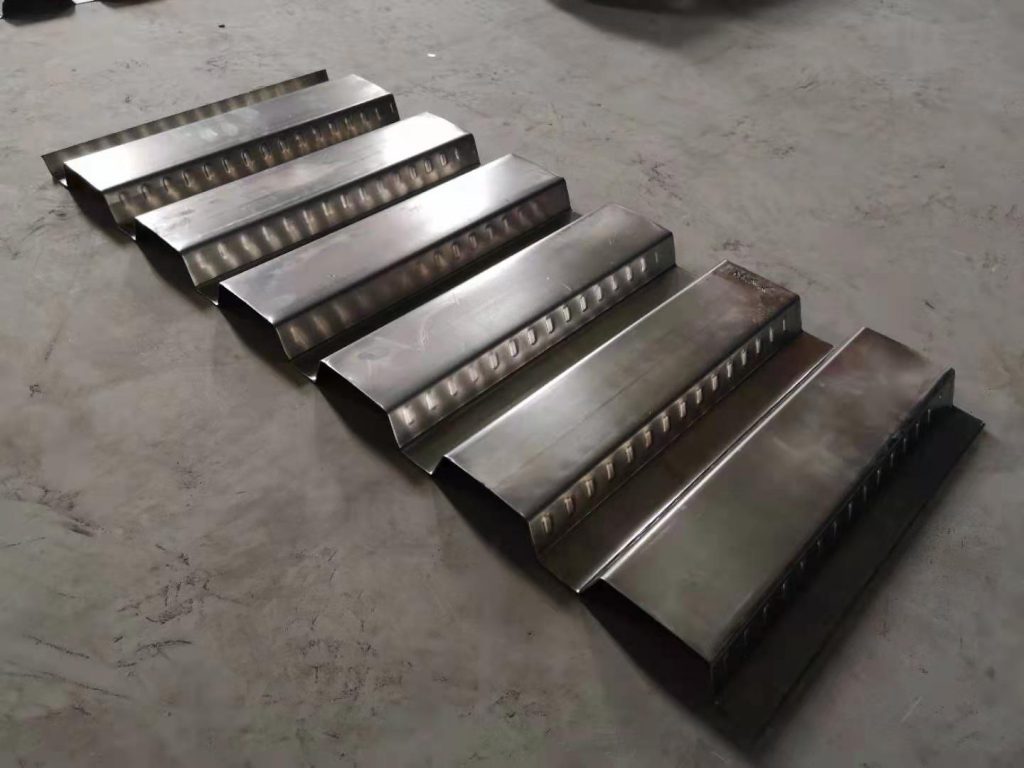 What's the Difference between Floor deck and Roof deck?
Metal Decking is manufactured in a few different forms. The two most commonly used are Composite Metal Floor Deck and Non-Composite Metal Roof Deck. It is important to know the difference when you go to purchase, so that you order the correct type.
Composit Metal Floor Deck:
Composite is the combination of 2 or more distinct substances to create a solid material. In this case, we are referring to the metal deck and the concrete slab. They each have different physical characteristics and when they combine they create a composite system.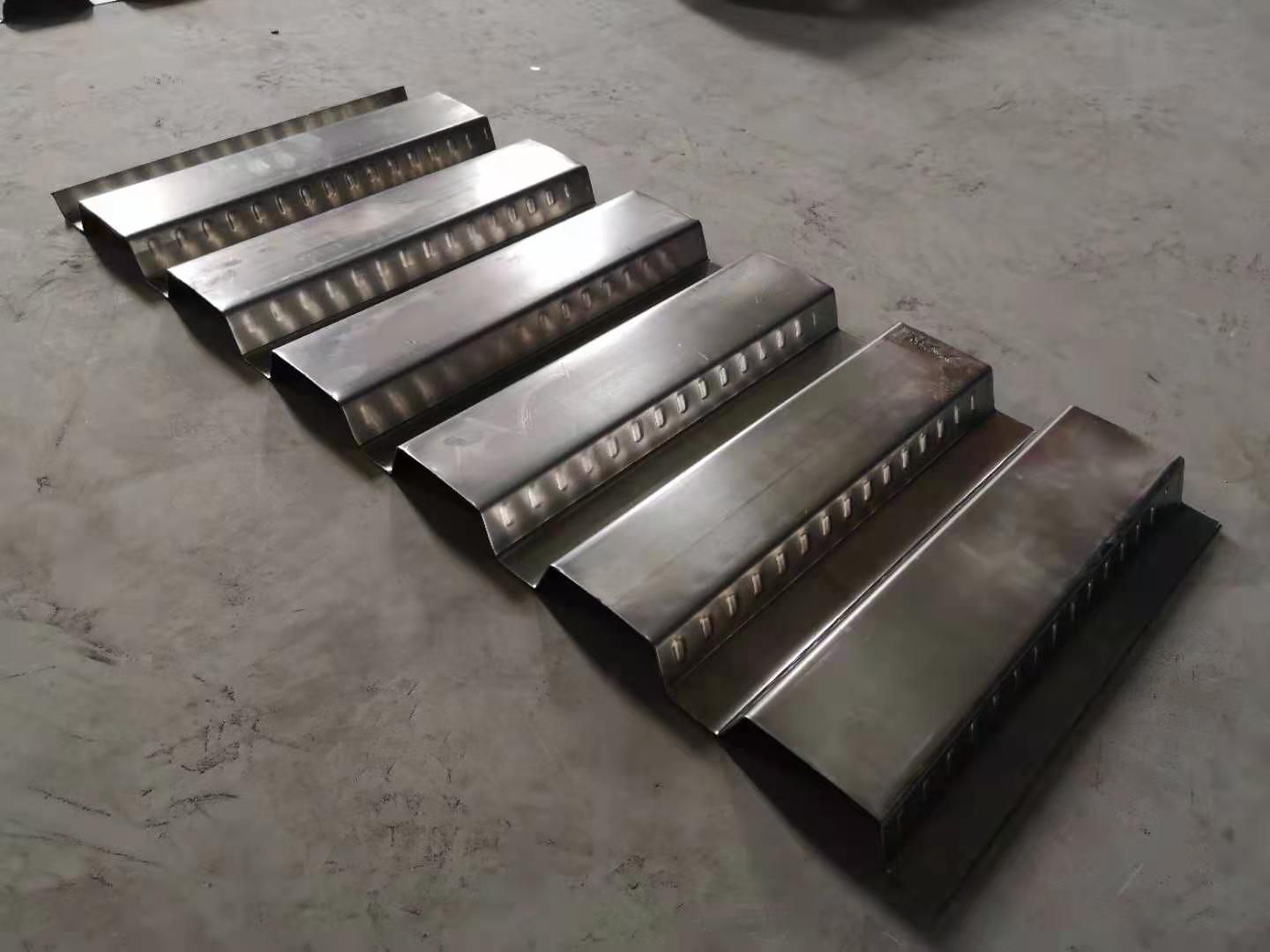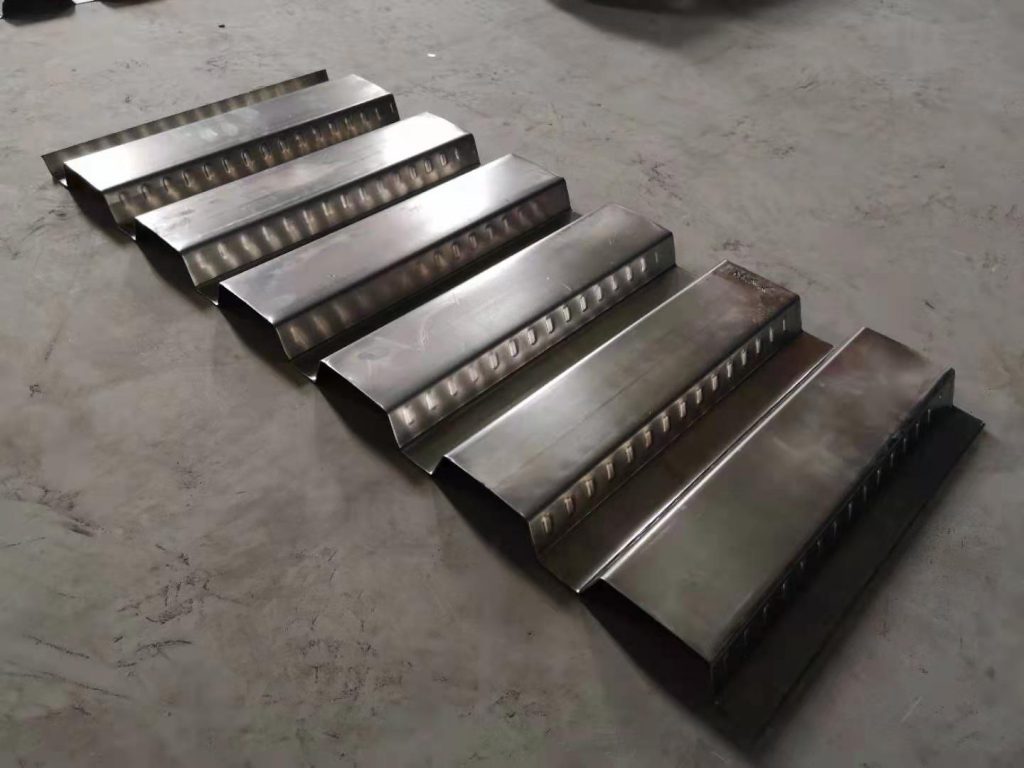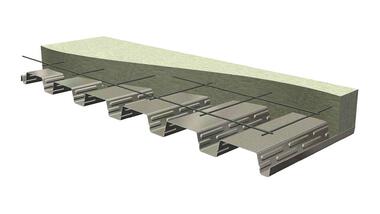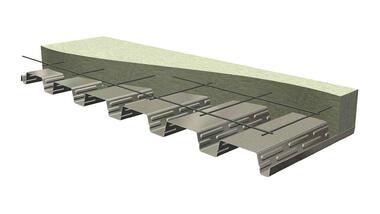 Usage:
Composite Metal Floor Deck is used as a floor deck. The decking and concrete are used to provide an optimal vertical load capacity. It is made in different profile types, each with different diaphragm strength and unshored span tables which is stronger than the sum of the parts.
Non-composit Metal Rood Deck:
Non-Composite Metal Roof Deck isn't intended for concrete. It is a smooth panel, with no embossment pattern. It is a structural roof deck that provides both diaphragm shear and vertical load capacity. As with the Composite Floor Deck, there are different profile types that each provide different diaphragm strength.


Usage:
Non-Composite Metal Roof Deck is commonly used for roof decking on commercial buildings where they put rigid board insulation on top of it. On top of the rigid board insulation, they put built-up roofing.
Another use that is quite common is roofing on a canopy or steel building even though this material is not intended for that purpose, people put down type HSB-36Ⓡ and use that as the actual finished product for the roof. This was never intended to be used as stand alone roofing, but it is more common than you'd think. We do not recommend it to be used as stand alone roofing.
Some other ways that we have seen roof deck used are:
Siding, where roof deck is put in vertical condition to close off a wall.
Gates & fencing used in either horizontal or vertical position depending on how the owner wants the finished product to look.
Trash gates or roof covers for dumpster areas (used to prevent rainwater runoff)
Platform in movie theaters with the luxury reclining seating. Platforms have to be built up to accommodate this new type of seating and are usually done with metal roof deck underneath.
Roof Deck or Floor Deck?
When placing an order for Metal Deck it is important to let your sales rep know which type you need. Some profiles are made as both a Non-Composite Roof Deck and a Composite Floor Deck, which is why it is important to let your sales rep know which type you will need. Ordering Type B-deck or type N-deck isn't enough information since both are made as a roof and floor deck. It is not uncommon to call out for type B-deck and the default is to sell roof deck since Formlok was not specified. This can cause huge problems if the plans specified B-Formlok.
Our
Our 36" B Deck N Deck Metal floor deck roll forming machine can produce both B Deck and D deck,here are the detailed introduction and technical specifications.
1.Components of the36" B Deck N Deck Metal floor deck roll forming machine
| | | |
| --- | --- | --- |
| No. | Name | Quantity |
| 1 | Manual/hydraulic Decoiler with loading car | 1 set |
| 2 | Main roll former | 1 set |
| 3 | Control system | 1 set |
| 4 | Hydraulic system | 1 set |
| 5 | Product table/Auto stacker | 1 set |
2.Technical specifications of the 36" B Deck N Deck Metal floor deck roll forming machine
Item
Name
Specifications
1
Raw material
PPGI,Galvanized steel,Stainless steel
2
Raw material thickness
0.7-1.2mm or as customer's request
3
Decoiler
Manual/Hydraulic decoiler
4
Roller station
28 station(according to profile drawing)
5
Roller material
45# steel with quenched treatment
6
Shaft diameter
90mm
7
Shaft material
45# steel with tempered
8
Transmission
by double chains
9
Motor power
11 kw
10
Machine frame
350H steel welded
11
Cutting type
Electric motor cutting
12
Hydraulic power
5.5kw
13
Cutting blade material
Cr12 with quenched treatment
14
Cutting tolerance
+/-1mm
15
Control system
PLC
16
Brand
PLC:Delta/Siemens/Mitsubishi

Touch screen:Delta/Siemens/Mitsubishi

Encoder:Omron
3.Pictures of the 36" B Deck N Deck Metal floor deck roll forming machine: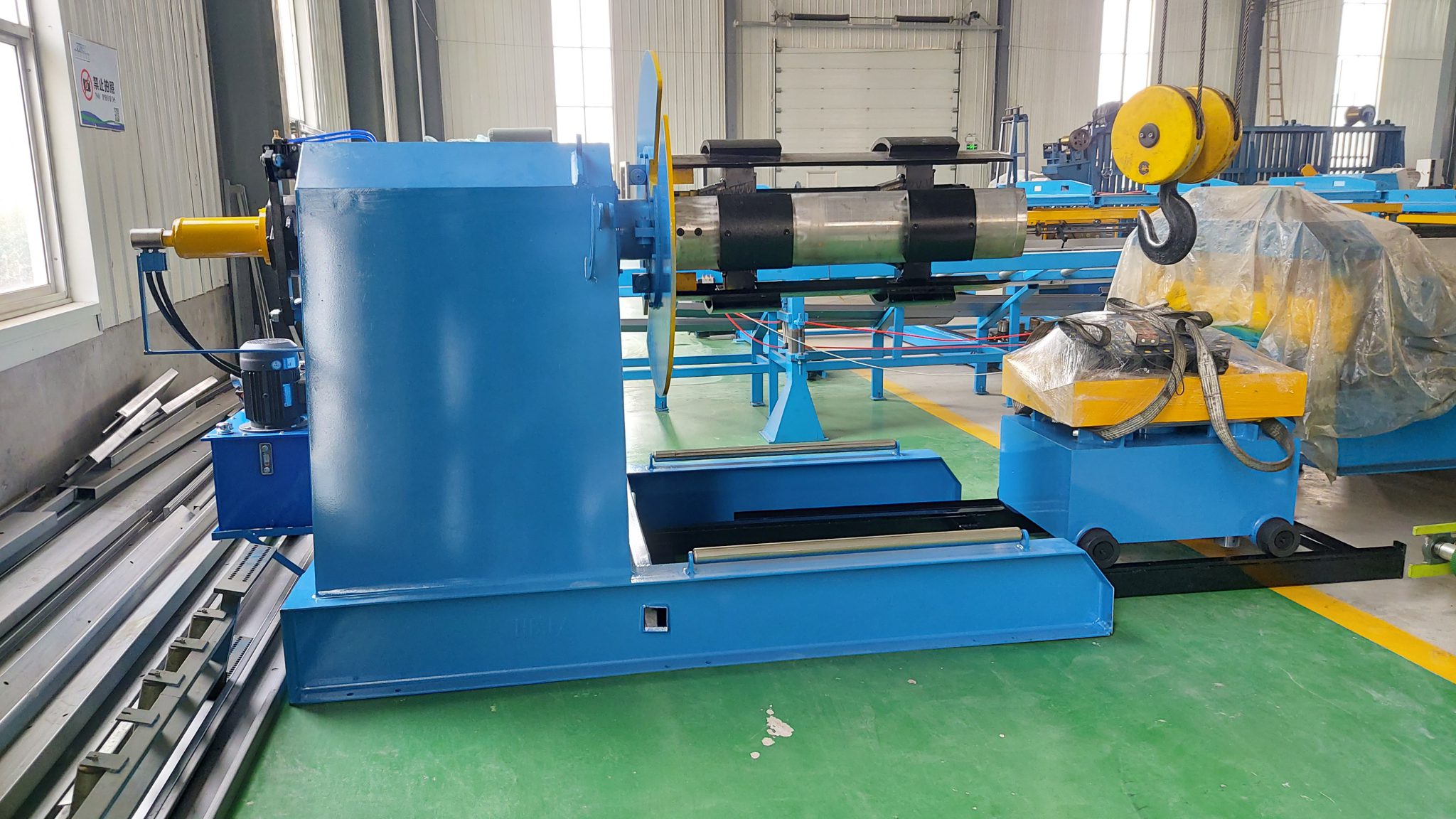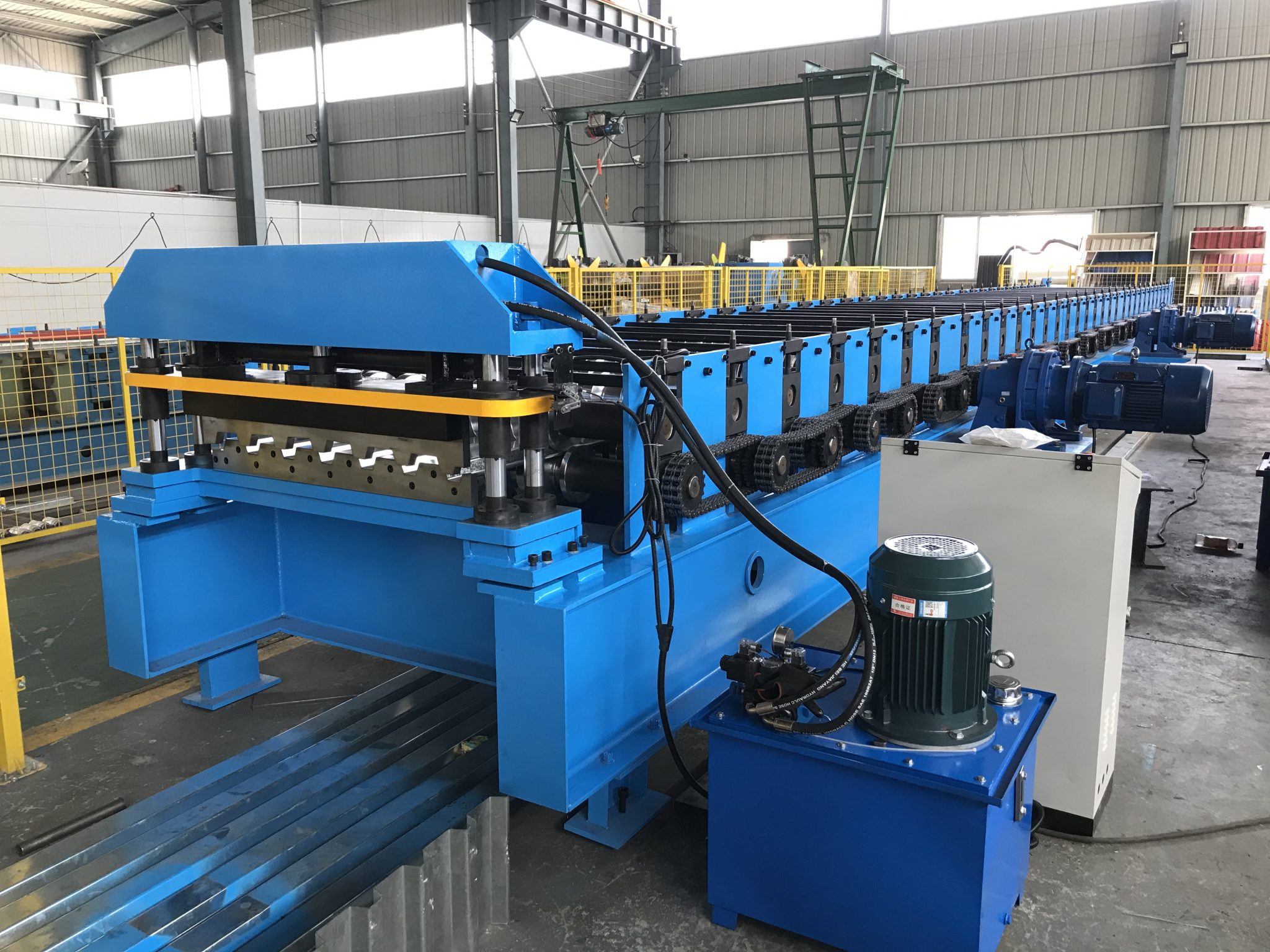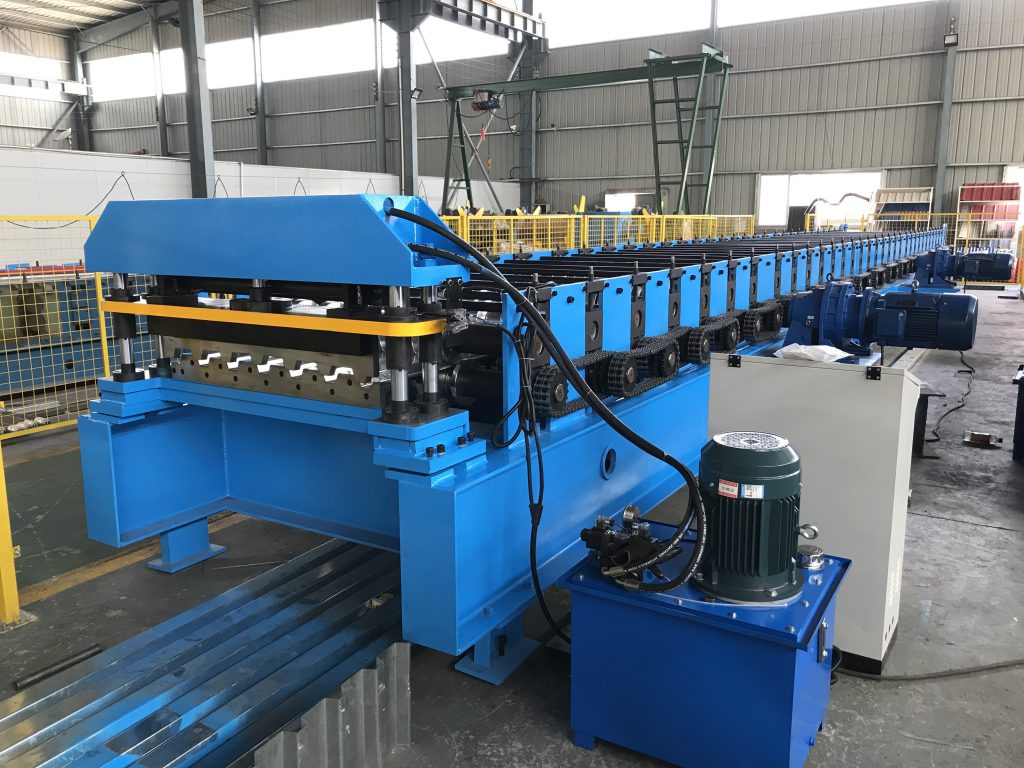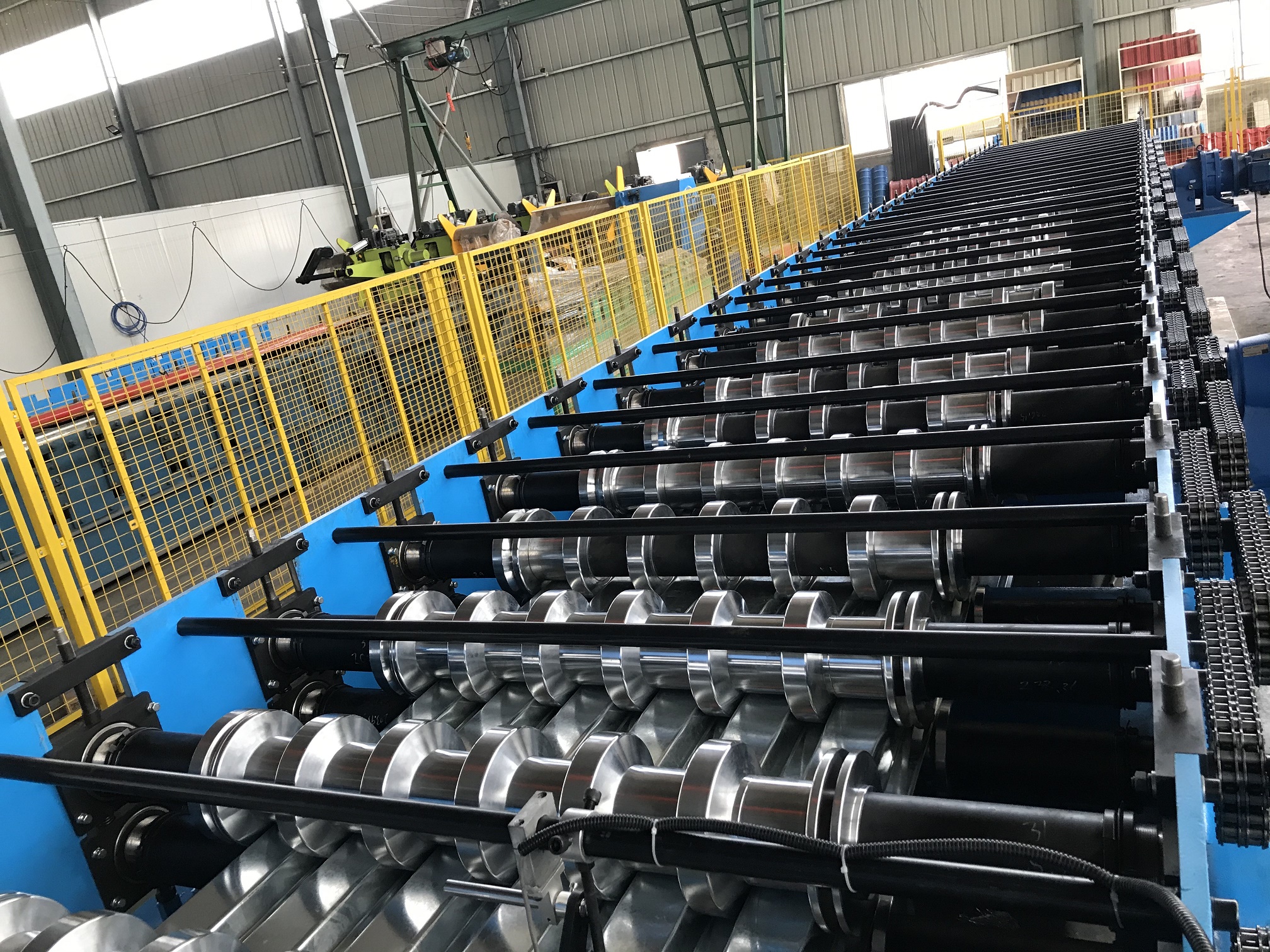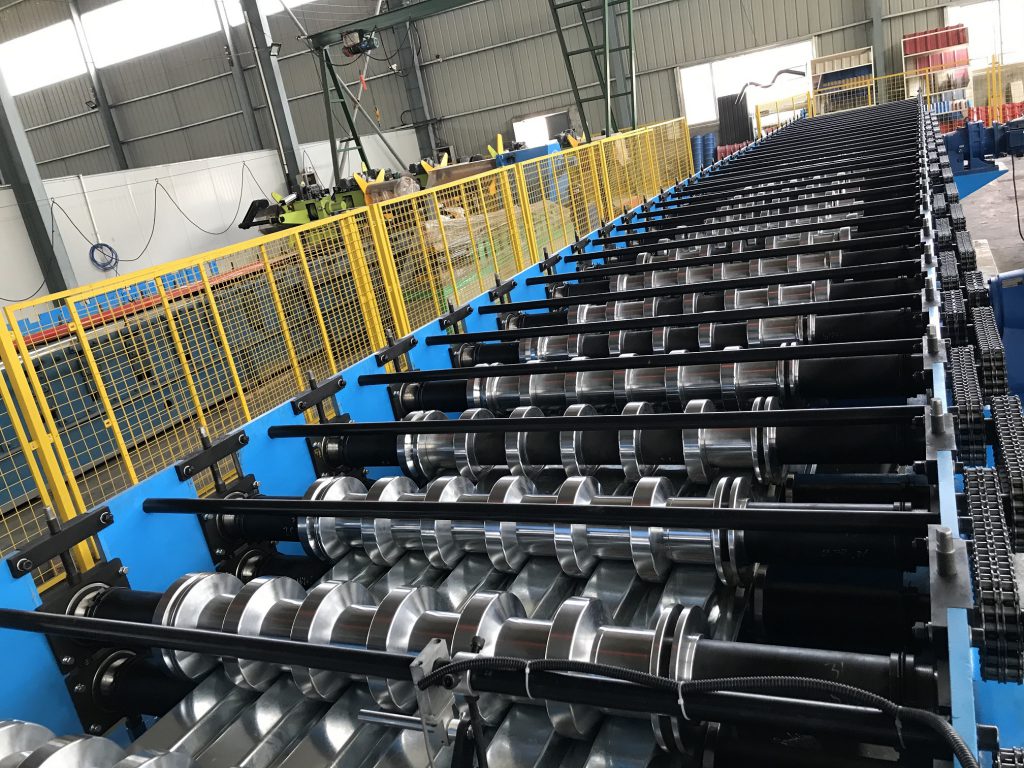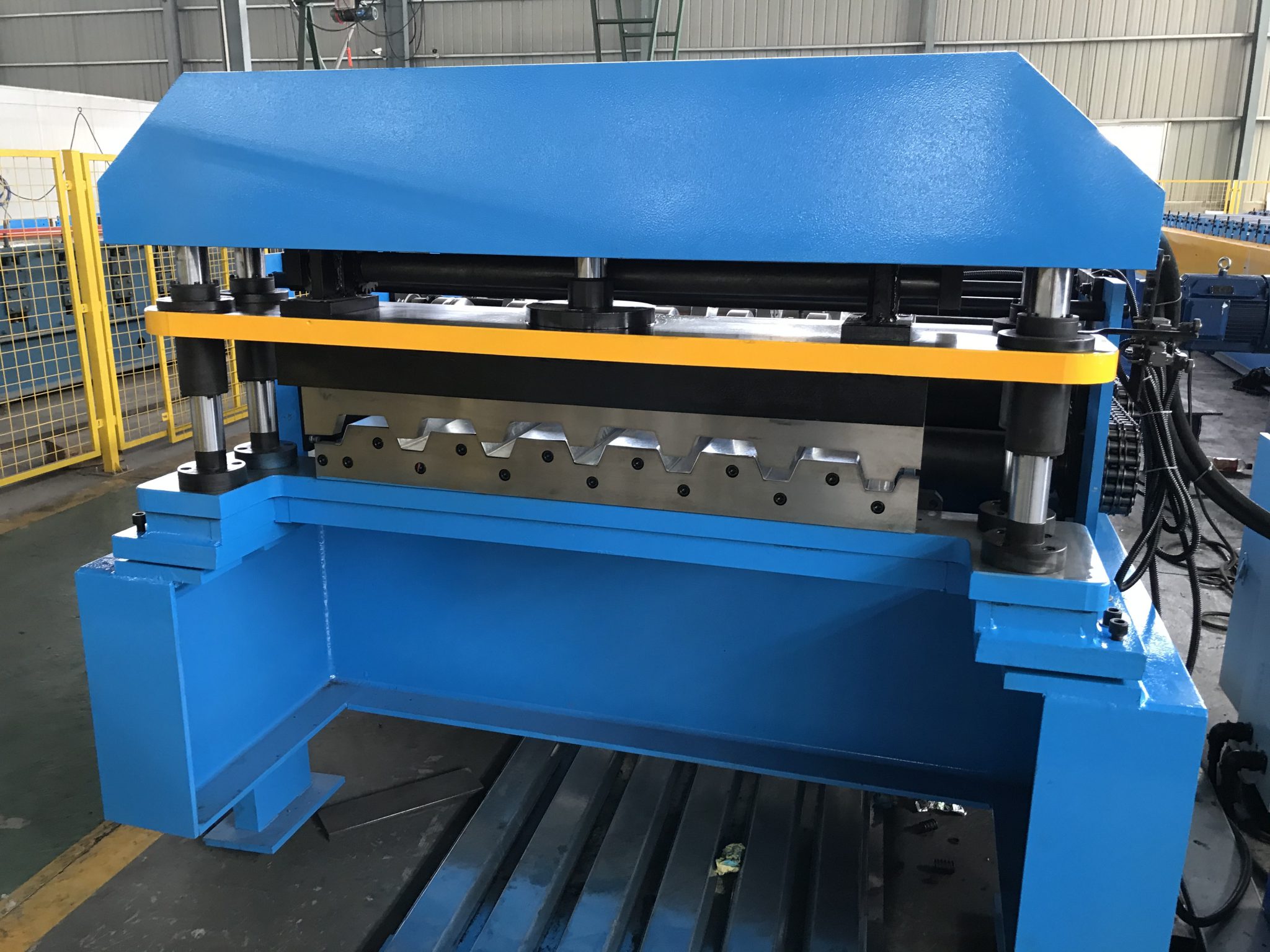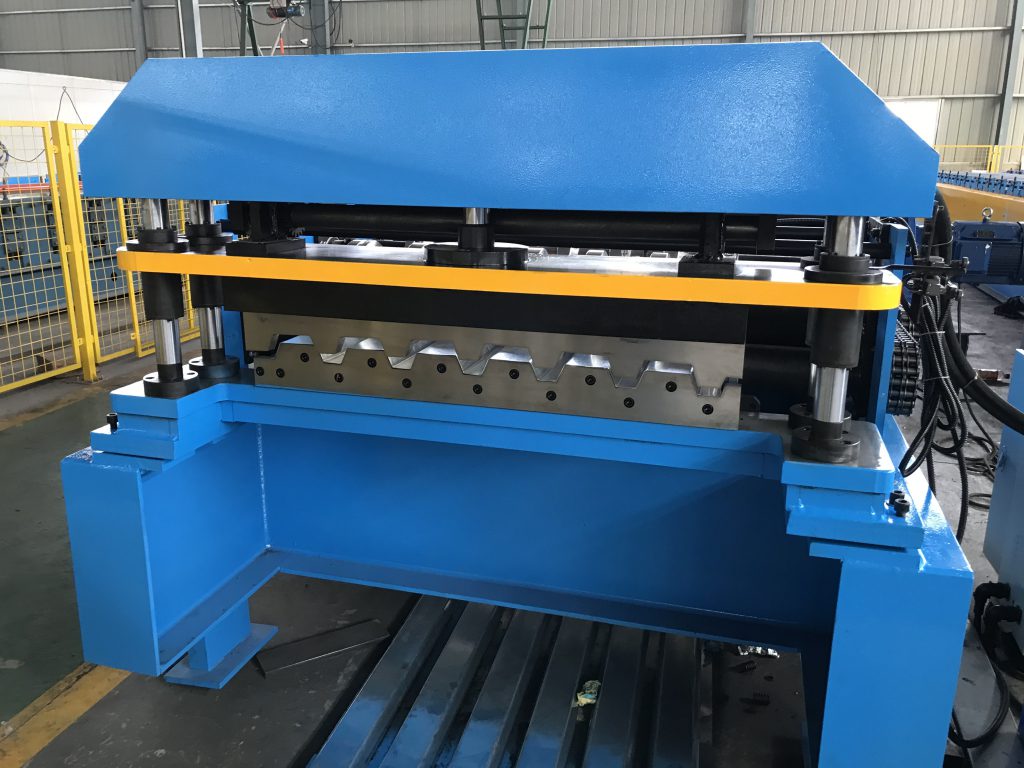 4.Working video of the 36" B Deck N Deck Metal floor deck roll forming machine